A Passion for Art
Since Larasati's first auction held on 30 April 2000 in Jakarta, Indonesia, the regional auction house's reputation has grown rapidly for auctioning rare and emerging Indonesian as well as other Asian works at record prices. In 2003, Larasati marked a milestone in its pursuit to become a major player in the Asian market, with its entry into Singapore and becoming the first Asian-based auction house that crossed national borders.
In 2009, Larasati became the first auction house from Southeast Asia to enter Hong Kong, the third largest auction market in the world. In view of growth opportunities and successful operations over the last 10 years, Larasati is expanding and One East Larasati is now the new umbrella for its auction business in Hong Kong and beyond.
Focused on featuring significant works of art and treating them as a kind of museum art, One East Larasati's boutique collection platforms fine works by master artists from Southeast Asia and other important art hubs in Asia. More than just merely a matter of buying and selling art objects, One East Larasati is driven to enhance the appreciation and development of art in Asia.
Currently, One East Larasati manages its auctions in four different countries: Indonesia, Singapore, Hong Kong, and the Netherlands.
THE BEGINNING
YEAR 2000
LARASATI's first paintings sale took place at the Aryaduta Jakarta on April 30, 2000 comprising 140 lots. The sale was a success, 75% of the lots were sold, generating around Rp 4 billion against a pre-sale estimate of Rp 2.5 billion.
The auction marked a new era in Indonesia's fine art market. LARASATI brought professionalism of international standard that the city had not yet seen in its art dealings. At the same time, LARASATI introduced an open, international forum for the trade of Indonesian pictures, setting prices for a number of lesser known artists while also establishing more realistic values for others.
By October of the same year, the auction fever had firmly taken hold in Jakarta. LARASATI, recognized as the Indonesia's leading auctioneers of fine art, formed a strategic partnership with GLERUM, the largest independent Art and Antique auction house in Holland, with its head office and principal saleroom in Amsterdam. In the course of that sale, an international pool of bidders pushed a Hendra Gunawan's "Fruit Seller" to Rp 550 million, way beyond the Rp 180 – 240 million estimate. More spectacular still, an oil of impeccable provenance by W. G. Hofker went for a hammer price of Rp 2.6 billion, arguably setting a new world record for the artist. The sale made a phenomenal Rp 9.2 billion, excluding premium.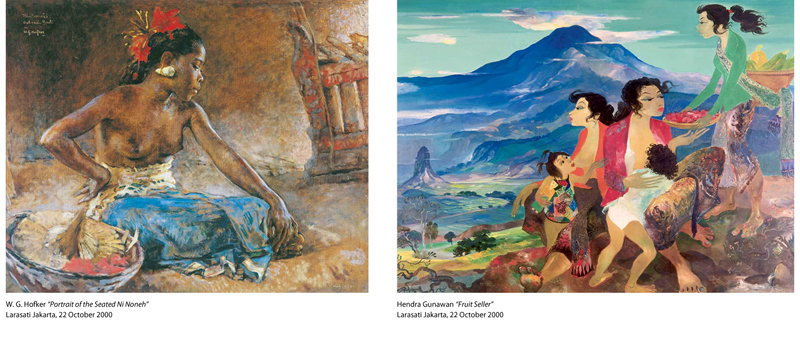 YEAR 2001
The following two sales in April and October 2001 saw the development of some important trend. Works by Indonesian younger generation of artists started to gain international recognition. The most expensive painting in April 2001 sale was a Le Mayeur de Merpes' "Ni Pollok" which was hammered off at Rp 2.3 billion. But it was a canvas by Ivan Sagito that excited the younger collectors in the room. The painting titled "Masing – Masing Dengan Bebannya" was sold for Rp 150 million, more than tripling its high estimate. In October 2001, Dede Eri Supria's "Super Clown" was hammered off at Rp 170 million against its high estimate of Rp 45 million, a record for a Dede at the time.
Work by the old master Lee Man Fong titled "Sate Seller" brought the audience to a standing ovation when it fetched Rp 750 million, making it the most expensive Sate Seller by the artist. With two auctions, the year 2001 brought a total hammer price of Rp 20 billion.
YEAR 2002
Just as some critics were pointing to the volatility and artificiality of the burgeoning regional market, further records were being set. More variety of artworks were also being offered to the public with the introduction of "HARMONIE" that brought along masks, textiles, and other artifacts into the saleroom for the very first time. Sale attendance at LARASATI – GLERUM in April 2002 was more international than ever with Indonesian buyers dominating as before. With 90% of the sale sold in volume, LARASATI – GLERUM April 2002 results could not have been better. Bidders pushed Djokopekik's Street Performers to an uncharted hammer price of Rp 460 million, well exceeding the Rp 180 – 280 million estimate.
A 75 x 91 cm Adrien Jean Le Mayeur de Merpes' "Preparing Offerings" that fetched Rp 2.2 billion, a new record for the artist on a painting of that size, brought the sale total to a spectacular Rp 14.3 billion, excluding premium.
Amidst worries after the Bali attack on 12 October 2002, LARASATI – GLERUM went ahead with its 2-day fine art auction, HARMONIE Treasures of Indonesian Arts and LARASATI Pictures of Indonesia, on October 19 and 20. The sale off 28 lots, 10 on the first day and 18 on the second day had to be postponed due to late arrival because of the tragedy. With another 5 lots withdrawn from the sale, the 2-day event finally became a 210-lot auction, offering 105 lots in each session.
The sale itself proved that art collecting is still a refuge in times of crisis. It defied the fear of terrorism and economic crisis. Solid sales were posted, particularly in the medium price range. The auction pulled in a total of Rp 12.9 billion excluding premium, with an 82 percent sale rate overall.
As expected, works by Affandi, Hendra Gunawan, Srihadi Sudarsono and Arie Smit commended high bids, well beyond their estimates. But the top lot of the sale was a 1988 painting by Sudjana Kerton, titled "Nyawer" (Wedding), which was featured on the catalog cover and raked in Rp 750 million excluding premium, far exceeding the Rp 140 – 180 million estimate and at the same time setting a new world record for a Sudjana Kerton.
The younger generation of Indonesian artists also did exceptionally well in the sale, with works by Ivan Sagito, Dede Eri Supria and Chusin Setiadikara commended the highest bids of Rp 280 million, Rp 220 million and Rp 140 million respectively. However, it was Koeboe Sarawan's "Potret Diri" (2002) that brought the crowd to their feet. The painting fetched Rp 110 million, far beyond the Rp 27 – 35 million estimate.
The crowd in the saleroom was down by about 10 percent compared to April 2002. But LARASATI's strong October 2002 collection had drawn a lot of interested bidding and for some, prices just went through the roof.
THE 'EARLY' EXPANSION
YEAR 2003
LARASATI held 2 auctions in 2003, each of which well exceeded its target of S$ 1.5 million per auction, despite the outbreak of SARS (severe acute respiratory syndrome) in Singapore and around the region. Each sale was attended by around 200 art enthusiasts, local and foreign collectors. The first sale held at the Raffles Hotel on May 17, 2003 saw a total of S$ 2.2 million with 74% of it 66 lots snapped up. The second sale held at the Marriott Hotel on December 7, 2003 saw total of just under S$ 2.1 million with 72% of its 83 lots gone under the hammer.
Both auctions saw record-breaking prices. In LARASATI's May sale, Chinese artist Wu Guanzhong's oil on canvas, titled "High Tide" sold for S$ 403,500 setting a new record for the artist; while in December, Indonesian Hendra Gunawan's "Penjual Ikan" (Fish Seller) fetched S$ 535,500, which was also a new mark for him.
In contrast with the first auction when Indonesian buyers prevailed (about 70%), the second auction witnessed the presence of many new buyers coming from Singapore and other foreign countries. Over 50% of the sold lots went to non-Indonesian collectors. It is a sign that LARASATI could indeed become a major player in the region.
In 2003 Larasati was the first auction house to introduce Chinese contemporary art in the region, promoting works by the likes of Yue Minjun, Zhang Xiaogang(*) and Fang Lijun. Today these artists are the icons of Asia.
*On 3 April 2011, Zhang Xiaogang become the most expensive contemporary Asian artist when his work entitled "Forever Lasting Love" was sold for USD 10,2 million.


YEAR 2004
On 3 April, 2004, LARASATI returned to the Raffles Hotel to hold her third auction and hammered off S$ 2.5 million to achieve a total sale of just under S$ 3 million with 80% of the 88 lots sold, exceeding its target of S$ 2 million.
The second auction was held at the Marriott Hotel on 9 October, 2004. 80% of the 106 lots were sold; giving a total sale of S$ 2 million, and a grand total of S$ 4.9 million for the year 2004, approximately 15% higher as compared to that of year 2003 (S$ 4.3 million).
Year 2004 witnessed a significant increase in attendance. At each auction, the saleroom was packed with 250 people, dominated by foreign collectors coming from Indonesia, The Philippines, Malaysia, and Hong Kong.
More record breaking prices were achieved. In April 2004, "Balinese Dancer", a rare oil on canvas by the late Antonio Blanco fetched S$ 249,500, breaking the record previously achieved at Christie's Hong Kong in April 2002, when "The Dream" by Blanco fetched HK$ 1,064,100 (S$ 229,484).
Then in October 2004, it was a 1945 oil on canvas titled "Balinese Girl", measuring 33 x 25 cm, by Willem Gerard Hofker (lot 42), that broke the record. The painting was sold for at S$ 183,500, making it the most expensive Hofker today of that size.
YEAR 2005
LARASATI kicked off her boutique 2005 sale in Singapore on Saturday, 9 April at the Marriott Hotel. With around 250 people witnessing the auction, over 80% of the 96 lots offered found buyers, giving a total sales of S$ 2.1 million.
It was a day of recognition for Singapore pioneer artists when two important still life by Liu Kang and Chen Wen His fetched respectable prices of S$ 37,440 and S$ 64,350 respectively.
However, the hottest highlight of the sale was the cover lot, an exceptional 1953 oil on canvas by Affandi, depicting a boy on a wooden rocking horse. The lot was first offered at S$ 80,000 and a few minutes later fetched S$ 434,600 (including premium), five times higher than the estimate and making it the most expensive "Boy" by Affandi to date.
LARASATI was back at the Raffles Hotel in October with bigger attendance and a large increase in sales.
Some 300 people filled up the saleroom and LARASATI sold 81% of the 105 lots offered, scoring a total sales of SGD 2,6 million.
For the first time ever Antonio Blanco graced the cover of an auction catalog despite his great accomplishment as an artist. The oil on canvas titled "Tjempaka" by Blanco raked in S$ 233,000, a new world record for an unsigned work by the artist and making it the second most expensive Blanco in the world today (the highest was achieved at LARASATI auction in April 2004 when Blanco's "Balinese Dancer" was sold for S$ 249,500).
Prices also went through the roof on Affandi's "Me and My Cigar" and Wu Guanzhong's "Boulders near the White-walled House" which fetched S$ 389,800 and S$ 322,600 respectively. "Me and My Cigar" now rates among the most valuable Affandi's Self Portraits.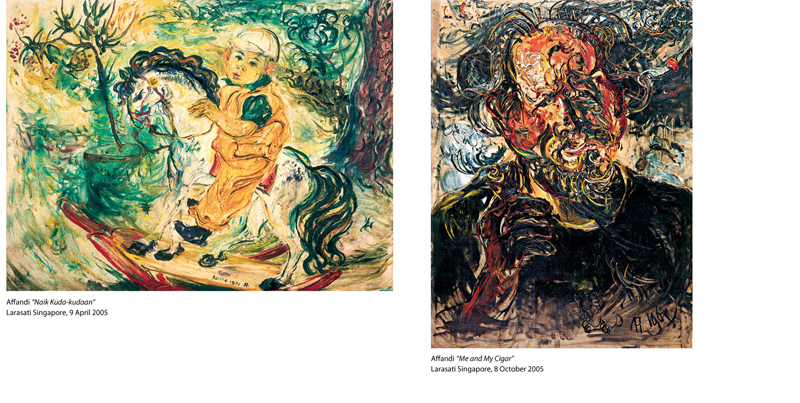 YEAR 2006
Over 70% of the 131 lots offered found buyers at LARASATI's
7th auction in Singapore held at the Marriot Hotel on Saturday, 15 April 2006, generating total sales of S$ 2,4 million.
The auction saw active bidding with a packed attendance of around 300 people.Intense competition resulted on respectable prices for exceptional pieces. Among others were the cover lot, "Performance Preparations" by Indonesia's master Abdul Aziz which raked in SGD 233,000 and "Three Horses" by Lee Man Fong that was sold for S$ 175,500.
LARASATI's highest taking for the day was a stunning image of "Mother Teresa" by one of India's most renowned contemporary artists, Maqbool Fida Husain, which pulled in S$ 322,600.
Other highlights included a dramatic work by Zeng Shanqing from China titled; "Happy Years No. 23" and a radiant painting by Indo-European master Le Mayeur, "The Dance" which was sold for S$ 128,700 and S$ 152,100 respectively.
The year 2006 also witnessed LARASATI's foresight in anticipating tomorrow's masters. Yue Minjun's "Kites", that was offered and sold for SGD 117,000 or just under USD 100,000 at LARASATI Singapore sale back in April 2005 hit a world record when it was re-offered at the Asian Contemporary Art Sale in Hong Kong in November 2006. The painting raked in HKD 7,400,000, or just under USD 1 million.