LOT 520
Cheong Soo Pieng
(1917 - 1983, Singaporean)

Mother's Love
Painted in 1976
oil on canvas
120 x 90 cm
signed on lower right

S$ 450,000 - 550,000
US$ 339,623 - 415,094
Pick up point: Singapore
Lot Essay
Mother's Love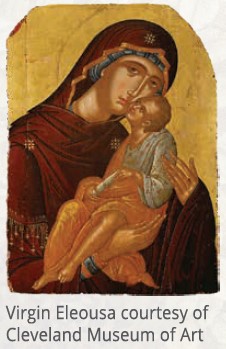 Presenting universal sentiment through local embodiment, Cheong Soo Pieng's Mother's Love embraces the archetypal ideal of the Mother in the essential act of giving and displaying love for her children. She is 'Every-mother' in the body of an ordinary Balinese woman; she is the nurturing manifestation of the Hindu goddess Kali, or Mary, Mother of God in the Christian church. Indeed, the figuration of her with her two children is reminiscent of the early medieval Byzantine formula of the Virgin Eleousa (the 'affectionate' Virgin), where mother and child touch cheek-to-cheek. This most delicate moment of contact binds the act to the most enduring of tropes.
Mother's Love is executed in Soo Pieng's dominant style from the early 1970s until his death in 1983. His trademark figuration of wayang puppet-influenced forms have the familiar large heads displaying the dark eyes of Dayak dolls, cylindrical bodies and stick limbs looking as if the Dalang is controlling them behind the gold-lit screen. The Balinese locale is suggested by the batik sarong of the mother, the rattan mat and fragrant frangipani tree against which the tight figure group is anchored. The ease, control and kinaesthetic grace of what cultural anthropologist Clifford Geertz calls "the world's most poised people" in his 1973 essay 'Notes on the Balinese Cockfight'1 is evident in the stillness suggested by the gravitationally balanced postures of the mother and her children, with the counterbalance of linear forms and dense, evenly rhythmic brushstrokes. Perched on the mother's shoulder is a small bird, a motif seen occasionally in Soo Pieng's works of this period and style, and evident in his Bali-themed works – such as Kampung Life, 1975 (sold Larasati 21 May 2022 for US$547,514) and Bali Girl, 1978 (Sotheby's Hong Kong, 27 April 2022, US$417,535). As an artist trained in traditional Chinese ink painting as well as Western oils, Soo Pieng may have included the bird to connote the good omens that birds played in the bird-and-blossom genre so familiar in Chinese art, whether as companions to ancestors and heroic figures, or as heavenly messengers or spirits.2 In this case, the bird is empirically the mother's companion too, and could be interpreted as a harbinger of safety, warmth and nurture, predicated on its nest-building to protect its own young.
The theme of mother and child is represented periodically in Soo Pieng's oeuvre, but the present work is unusual not only in depicting a mother with both a boy and a girl – the combined Chinese characters for which make the word Hao/ 'good' – but also in its scale; it is conspicuously large for this intimate subject matter. Two much smaller works have been sold recently: Mother and Son, 1978 (41 x 31cm)3, and Mother and Child, 1981 (60 x 45cm)4. Analysis of works sold at auction over the last decade reveal that the mother and child image is also less often seen than depictions of women in other roles: sisters or female companions (such as Resting, 1977; sold Larasati 27 January 2022 for premium-inclusive US$451,851); family scenes, often including children (A Family Gathering, 1974; sold Larasati 20 August 2022 for US$491,081); or communal activities (Pounding Rice, 1980; sold Larasati 19 Nov 2022 for US$486,817 and Satay Seller, 1982; sold Larasati 26 March 2022 for US$781,817).
Mother's Love has all the ingredients of classic, blue-chip Soo Pieng. It is executed in his mature and best-known style in oil on canvas; it reveals the technical and spiritual fusion of his art school training in traditional Chinese ink painting and Western modernism; and the subject matter is inspired by his life in Singapore after his migration there in 1946. As the archetypal Pioneer Artist of the Nanyang School, he captures the universal ideal of a mother's love through the spirit of the Southern Seas.
Bibliography
Geertz, Clifford (1993). 'Notes on the Balinese Cockfight'. The Interpretation of Cultures. London: Fontana Press. First published New York: Basic Books, 1973.

Liu, Y. (2000). 'The Symbolism of Flowers and Birds in Chinese Painting'. Oriental Art, Vol. XLVI(5), 53–63.
---
1Clifford Geertz, The Interpretation of Cultures, 1993, p.416.
2Yang Liu, 'The Symbolism of Flowers and Birds in Chinese Painting', Oriental Art, 2000, p.58.
3Christie's Hong Kong, 28 June – 7 July 2022, sold for premium-inclusive US$61,012.
4Bonhams Hong Kong, 22 April 2021, sold for premium-inclusive US$77,648.
Condition Report
The painting is in fair condition. General surface cleaning has been done. Minor retouch has been done previously. Hair line cracks on lower right. Painting is offered with frame.
---
Please note that this report has been compiled by Larasati staff based solely on their observation on the work. Larasati specialists are not professional conservators; thus the report should be treated only as an expression of opinion and not as a statement of fact. We suggest that you consult your own restorer for a more thorough report. We remind you again that all work is sold 'as is' and should be viewed personally by you or your professional adviser before the sale to assess its condition.
IMPORTANT NOTICE :
Kindly note that the Auctioneer will conduct the auction LIVE in the Sale Room. To comply with venue's Health Regulations, bidders are encouraged to register for phone bidding or putting absentee/written bid. You can also register to participate live on www.invaluable.com. Bidding will be carried out in Singapore Dollars. Any other currencies shown is just for reference only.
---
FOR THIS PARTICULAR SALE, ONE LARASATI ARTS WILL NOT CHARGE AN ADDITIONAL ON-LINE COMMISSION. PREMIUM IS 22% ON FINAL HAMMER PRICE.
How To Bid
Absentee or Telephone Bid
To submit an Absentee Bid or Telephone Bid, please complete this form and submit to info@larasati.com.
Online Bidding
To bid via Live Online Bidding please register on:

INVALUABLE:
https://bit.ly/LRSTMAY2023
Bidding will be carried out in Singapore Dollars.
Any other currencies shown is just for reference only.